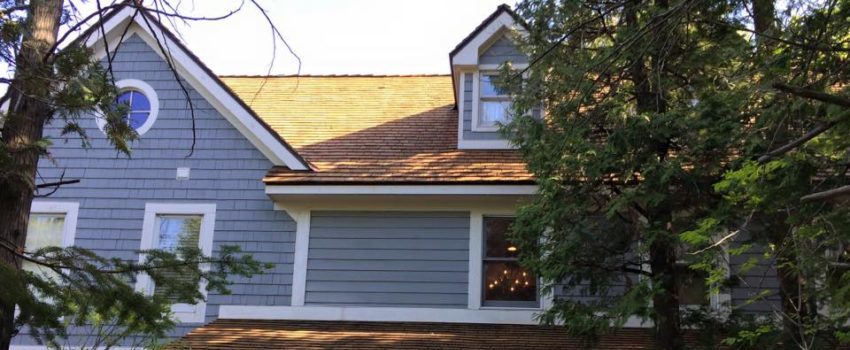 Cedar Shingles
It is important for your roof to be free of debris so it can dry out. Over time the built up debris and moss will cause your roof to rot and dramatically shorten the life of your roof.
Natural wood roofs are some of the most beautiful roofs you can have. Do you have moss or lichen growing on your roof and hiding the beauty of the cedar shingles or shakes?
Maintenance Vs. Replacemen
Unfortunately, many people don't think of taking care of the roof because they don't see it up close and when they start seeing growth of moss lichen and algae. They panic and don't want to think of replacement because of the cost.
Cedar roofs are constantly moving.

They swell when it rains and shrink when it dries.

They expand during the day and contract at night

Day in and day out your roof takes a lot of natural abuse
We will provide the most affordable process to effectively clean your roof based on an individual basis. Our cleaning solution slowly kills the moss, lichen and algae and we carefully remove the debris while taking every precaution to protect your home, landscaping and belongings. We also have a process that will strip the moss, debris and surface age leaving you with a renewed and properly functioning roof.
Once used, it breaks down into harmless minerals that do not pollute our environment like poisonous chemicals do. It works great on shingles and wood shakes. We apply our earth friendly treatment that is:
We offer a cedar roof treatment for those customers that love that new cedar roof appearance. We apply a non-drying oil that is water repellant and a UV inhibitor that will preserve the color and longevity of your new or freshly cleaned roof.
Our Cedar Shingles Roof Cleaning Gallery
Treating your roof stops the damage now! Do you have ugly stains and streaks on your roof? There are very few low cost home improvement projects that can offer dramatic benefits quickly. Roof cleaning is one of them.
Your roof is a huge collector of
This grime must be removed if your roof is to look its best and function properly.
Roof Cleaning with Results
When done properly, the results are amazing and our photos prove we know how to do it right! We get rid of the black streaks and brighten the roof so that it looks like new! Safely remove those streaks on your roof with no pressure washing.
Renew Vs. Replacement Cost
Many homeowners have spent thousands of dollars replacing shingle roofs that could have been restored to a like new appearance with simple no pressure cleaning.
No pressure cleaning process to safely clean your roof.

Shingles look new at a fraction of the cost of a roof replacement

Stops damage to your roof.
Those black streaks on your roof are not signs of wear, but algae that can be washed away.
Our Asphalt Shingles Roof Cleaning Gallery
*Prevention process available. For more information on care and maintenance please look at www.cedarbureau.org